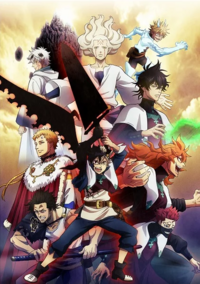 Il 25° numero di Weekly Shonen Jump della Shueisha ha mostrato in anteprima la quarta locandina dell'anime Black Clover. L'illustrazione del nuovo arco mostra la grande battaglia tra umani contro elfi.
Originariamente l'anime doveva essere composto da 51 episodi, ma è proseguito direttamente con un'altra serie composta da 52 episodi
L'anime è iniziato nell'ottobre 2017 in Giappone e Crunchyroll la sta trasmettendo in contemporanea con la sua uscita.
Tatsuya Yoshihara (Monster Musume, Yatterman Night, Muromi-san, Long Riders!) dirige l'anime per lo Studio Pierrot. Kazuyuki Fudeyasu (Is the order a rabbit?, Tantei Opera Milky Holmes, Yatterman Night) compone la serie. Itsuko Takeda (Ristorante Paradiso, Level E, Blue Drop) è il character designer e Kumiko Tokunaga (seconda stagione di Kingdom) è il sub-character designer. Kosei Takahashi (key animation for Food Wars! Shokugeki no Soma, Monster Hunter Stories RIDE ON) è il prop designer, Aiko Shinohara (Fairy Tail, The Heroic Legend of Arslan) è il color design e Minako Seki (The Silver Guardian, entrambe le stagioni di Kingdom) compone la musica.
Fonti: numero 25 Weekly Shonen Jump, MoCa News
Notizia originale di Crystalyn Hodgkins su AnimeNewsNetwork